Larry's RV Sales and Service History

Larry's RV was started in 1981 by Larry and Joyce Tatman. Larry had worked on RVs and mobile homes since 1956 and wanted to provide his service to
people in North Platte as well as the surrounding communities.

Originally, the RV repair was done alongside radiator repair in their building on East Fourth, behind Bud's Repair.

As the business grew, RV sales were added and the business moved to the east end of the Bud's Repair building on East Fourth.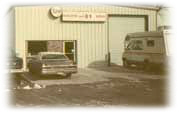 Still growing, Larry's RV moved to its current location, 1802 East 4th, in 1986, and separated from the radiator business. The new location allowed a good sized sales lot as well as more shop space for service.

In 1996, an additional 5 bay shop was added to the building and in 2001, the sales lot was more than doubled.
Larry's RV continues to grow to be your complete RV dealer.

View / Search Our Inventory!